随着在美国生活得越来越久,对车的需求也越来越大,比如带小狗去上training课程、去Costco买生活用品、旅游、与朋友聚会等等。之所以在美国呆了两年多才开始真正开始这件事,是因为一方面自己还是新手司机(开车上路总担心会不小心刮蹭,亦或者自己对道路状况的不熟悉可能会导致的安全问题),另一方面是自己不喜欢开车(租车行也好,Zipcar租车也好,总是开起来不舒服)。目前我开过的车有:
Dodge Charger
Kia Soul
Honda HR-V
Subaru XV Crosstrek
Honda Civic
Toyota Corolla
Mitsubishi Outlander
Mazda CX-5
我其实挺喜欢开轿车的,因为重心低并且方向操控感更好,但是空间太小,所以忽略掉了这个选择。SUV我之前是一直不喜欢的,直到有次偶然在Zipcar上租到了Mazda CX-5。驾驶体验特别好,这可能就是一见钟情吧哈哈哈。
现在是2022/01/05,在去年年末的时候汽车芯片突然短缺再加上长期的疫情影响,导致车价突增,但是我不想再拖这一件事了,而且看了一下history pricing,涨幅在5000刀左右,在可以接受的范围。没错,本人是心甘情愿的韭菜。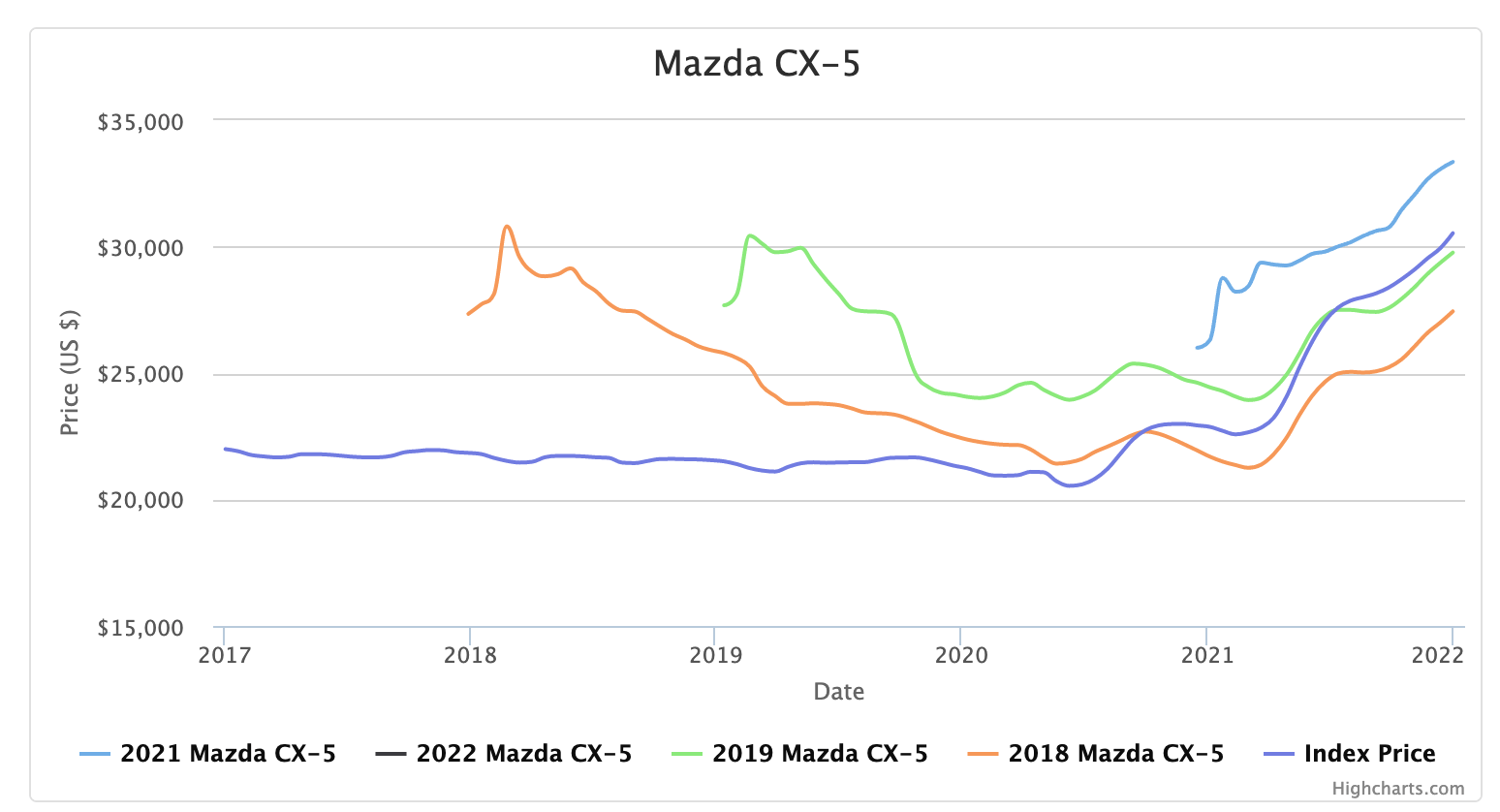 这篇笔记将会记录买车的全过程。
新车 or 二手车?
由于价格涨幅的原因,新车与二手车价格一起上升,二手车甚至与新车的价格差不多,所以我计划直接买一台新车。至于车型,因为现在是mazda cx-5 2022款即将发布的日子,索性就锁定到最新款。同时我也感觉新款车辆的起始价不会太高,抢一下应该还是可以的。
买新车要做好的一个心理准备是它会跌价得厉害。所以一般来说只有长期持有才会买新车。在5-6年之内不考虑换车。
Trim比较
S (starting at $25,900)

All-wheel drive — Standard AWD adds confidence-inspiring traction to every drive.
i-Activsense safety features — This safety tech suite bundles adaptive cruise control, lane-keep assist, and more.
10.25-inch infotainment system — This big, vibrant screen is loaded with Android Auto and Apple CarPlay smartphone connectivity features.

S Select (starting at $27,900)

Leatherette seats — These imitation leather seats are heated in front.
Automatic climate control — Dual-zone automatic climate control makes sure the driver and the passenger stay comfortable.
Rear USB ports — Two USB ports in the back ensure everyone's devices stay charged.

S Preferred (starting at $29,160)

Leather seats — Leather seating adds an extra layer of luxury to the already upscale CX-5.
Power moonroof — A power moonroof makes the interior feel more open and airy.
Power rear liftgate — Open and close the liftgate with a touch of a button on the key fob.

S Premium (starting at $32,310)

Mi-Drive — The Mazda Intelligent Drive Select system adds Sport and Off-Road drive modes to the CX-5.
Bose premium audio — This 10-speaker audio system lets you hear your music how it was meant to be heard.
SiriusXM — SiriusXM satellite radio comes standard along with a free 3-month trial.

Turbo (starting at $36,400)

256-horsepower turbocharged engine — Few rivals can match the lively performance of the CX-5 2.5 Turbo.
Sporty appearance package — Some tweaks to the look of the turbocharged CX-5 set it apart from its non-turbo counterparts.
Wireless charging — A convenient wireless charging pad keeps your device topped off without fussing with wires.

Turbo Signature (starting at $38,650)

Nappa leather seats — These luxurious Caturra Brown Nappa leather seats make the CX-5 feel like an authentic luxury SUV.
Navigation — Satellite navigation in the CX-5 also adds traffic sign recognition to the head-up display.
360-degree camera — This feature makes parking safer and easier.
Dealers
Mazda of Gladstone
Email
ask for quota

Dear XXX,

I want to buy a 2022 Mazda CX-5 of Premium Plus trim. Since it is a new model and hasn't been released on the official site, I'm not sure if it is available in your stock. Please keep me updated on it if it is not.

Otherwise, I want to ask for a quote for the trim. Please bid on the price over or under the invoice you are willing to sell this vehicle to make it a fair comparison. If I buy from you, I'm assuming I will be shown a copy of the factory invoice and equipment on the car. I can choose from any vehicle of this particular trim you have on your lot. I'm flexible with options and colors. But I prefer the Machine Gray Metallic color.

Please provide the following in your bid:

Price concerning factory invoice
List any additional fees I will have to pay that are not listed on the invoice (example: doc fee, dealer prep, etc.)
Are there any dealer add-ons I will be required to pay (pinstripes, etc.)
List any rebates or incentives currently offered on this vehicle
List the OTD (Out the Door) Price, including taxes, incentives, and all fees

Thank you for your time. I'm looking forward to your response.

Hi there,
I hope this email finds you well.

Thank you for your quick reply! I appreciate it.

Yes, I am interested in the new Mazda 2022 CX-5 Premium Plus. I have a test drive with another dealer, so thank you for your offer!

I'd like to learn more about the pricing of this model. Please bid on the price over or under the invoice you are willing to sell this vehicle to make it a fair comparison. If I buy from you, I'm assuming I will be shown a copy of the factory invoice and equipment on the car. I'm flexible with options and colors. But I prefer the Machine Gray Metallic color.

Please provide the following in your bid:

- Price concerning factory invoice

- List any additional fees I will have to pay that are not listed on the invoice (example: doc fee, dealer prep, etc.)

- Are there any dealer add-ons I will be required to pay (pinstripes, etc.)

- List the OTD (Out the Door) Price, including taxes, incentives, and all fees

Thank you for your time, and I look forward to your reply.

Best,
Hongbo
Ask for quote
Dealerships
Address
DOUG'S LYNNWOOD MAZDA
22214 Hwy 99, Edmonds, WA 98026
MAZDA OF SEATTLE
4522 Roosevelt Way NE, Seattle, WA 98105
MAZDA OF EVERETT
11409 Highway 99
Everett, WA 98204
WALKER'S RENTON MAZDA
3400 East Valley Road
Renton, WA 98057
SOUTH TACOMA MAZDA
6027 South Tacoma Way
Tacoma, WA 98409
PUYALLUP MAZDA
608 River Rd.
Puyallup, WA 98371
Mazda San Francisco
280 S Van Ness Ave, San Francisco, CA 94103
Reference